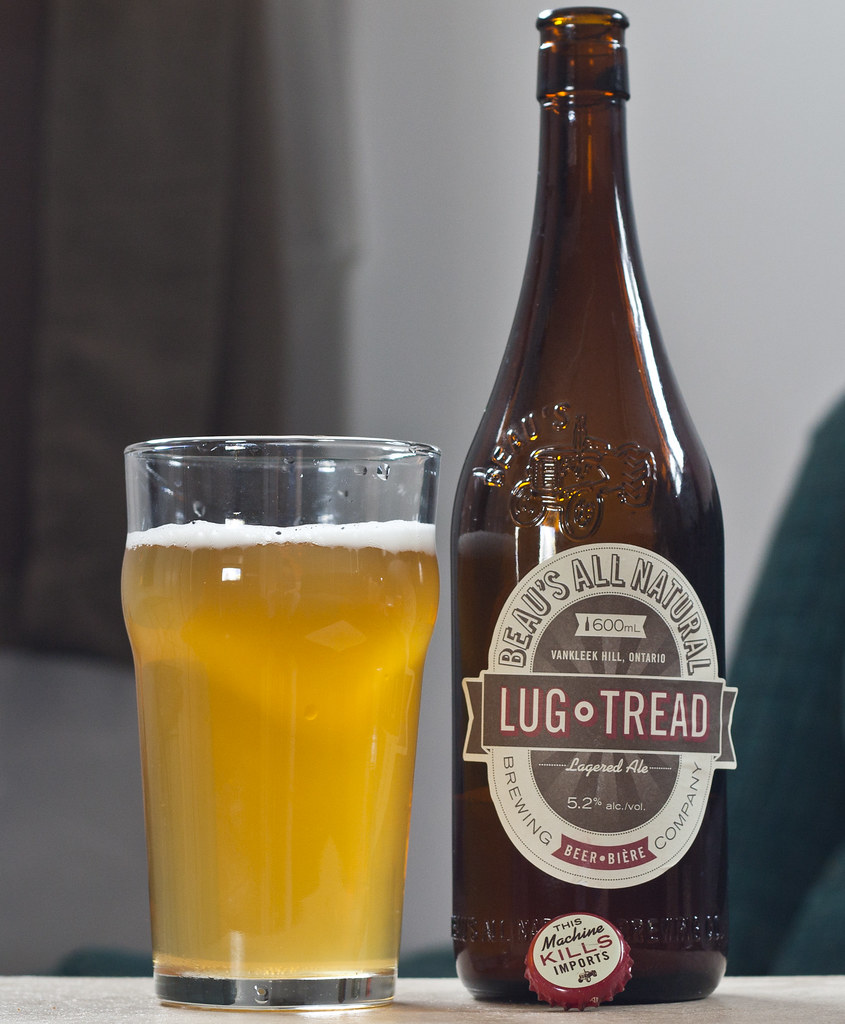 Another great beer over from the great folks over at
Beau's All Natural Brewing
out of Ottawa! Too bad their beer isn't available out west as I ONLY ever hear "OMG have you ever had Beau's?! It's sooooo good!"
Beau's
Lug Tread Lagered Ale
is one of their most popular products of all time. Whenever a new brewery starts up, it's expected that they come out with a lighter tasting beer for those beer drinkers who don't like an overly hopped or a dark ale like us beer geeks do, and it makes sense - lagers and light ales end up being a cash cow for breweries. Beer snobs would prefer if their favourite breweries
didn't
brew lagers or lighter ales in the first place, but if you want to convert picky drinkers to their product, they have to start somewheres, right?
Appearance:
I love Beau's bottles.. well.. who wouldn't? They use custom made 600mL bottles with a freaking TRACTOR imprinted on the glass. As a farm boy, I love that - it shows off the
natural
side of the brewery. The beer pours like a standard Canadian lager, but cloudier, a bit of sediment in place, LOTS of carbonation taking place like a standard lager, looks very stellar considering I don't know how long this beer has been in my fridge for..
Aroma:
The Lug Tread has scents of malted barley, incredibly barley-licious. Some lemon zest, grassy notes, light hop notes, reminiscent to a higher quality Kölsch.
Taste:
A bit of a sweeter lager, like a kölsch.. lightly floral notes from the hops, some lemon, quite a noticeable flavour of malted barley, fairly light in flavour but quite satisfying at the same time.
Overall Thoughts:
Fairly light which is expected for a lager. Nice notes of light floral hops, lemon and sweet malted barley. Very easy to drink, not too light and helps relax the body after a long day at work. 5.2% ABV.
http://www.beaus.ca/beer/lug_tread
Edit:
Also, don't forget to check out Beau's
FREEEEEEE Mixtape
! Check out some of Canada's greatest up-and-coming indie bands all thanks to Beau's!
http://mixtape.beaus.ca/
No longer exists, unfortunately.. but the mixtape featured awesome indie musicians like Hey Ocean!
We Are the City
and
Slow Down, Molasses
(I once had drinks with their drummer at WCMAs years back and the other two groups have performed in Brandon before!)